ABOUT US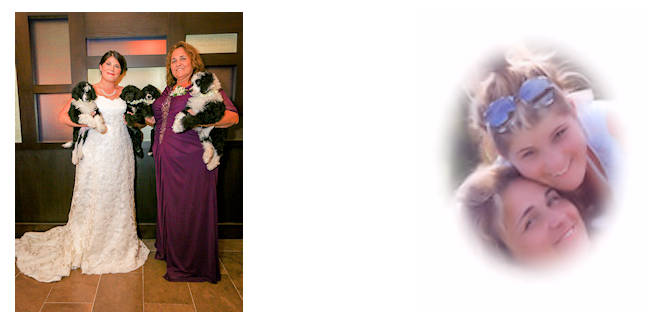 We are a family run hobby breeder in between Milton and Guelph, Ontario. Dogs are our passion. They are our personal companions first and show/working dogs second. They sleep on our couches, beds and have taken over swimming in our pool. They are a big part of our everyday lives and we could not imagine a day without them.

We were introduced to this wonderful breed in 1998. We purchased our foundation girls Nina and Maddie in 2002 from Ferncliff Kennel in Mississippi, USA.

Nina had our first PWD litter in May of 2004. There were nine beautiful puppies in the litter which resulted in seven Canadian Champions, two American Champions, two Best Puppy in Shows,
three Best Puppy in Group winners and Multiple Group Placements.

In 2007 we added some new bloodlines from Del Sur Kennel in Florida, USA. Brownie, Dolly, Fergie and Cody all finished their Canadian Championships. Our girl Brownie, behind many of our wonderful dogs, was the #1 Portuguese Water Dog, #9 Working Dog in Canada in 2009, the #1 Portuguese Water Dog and #8 Working Dog in Canada in 2010. She won multiple Best in Shows, Reserve Best in Shows and Specialty Best in Shows. More importantly, she went on to have a profound impact on our breeding program with her producing 10 Champion kids who have many Champion and Grand Champion kids of their own.





In 2013, our special boy Harry was the #2 PWD, #1 PWD puppy, #1 Working Dog Puppy and #4 Puppy All-Breeds in Canada. In a few short months being shown, Harry earned his Championship, Grand Championship and earned an All Breed Best in Show at the age of nine months and two days - the youngest PWD to do so in North America. Harry also earned 12 Best Puppy in Shows, two Reserve Best Puppy in Shows, one Best Puppy in Specialty, 3 Working Group firsts, 18 other group placements and 29 Best Puppy in Groups. He then completed his American Championship in 2015 with 3 supported entry majors!





We have over 62 homebred Canadian Champions, over 70 total Champions, 6 Grand Champions and 8 American Champions. A platitude of awards in the show ring include multiple Best in Shows, Reserve Best in Shows, Best Puppy in Shows, Specialty Best in Shows and Group wins.

Our dogs are very accomplished at the PWD Nationals in both Canada and the USA. Brownie won
the 2010 Canadian National, was Best of Opposite and Best Veteran from the Veteran class in 2014. Nellie earned the Best of Opposite award at the 2004 Canadian National. At the US National, Logan won her 6-9 sweeps class in 2014 and the next year she won the 15-18 class and went on to win Best Puppy in Sweepstakes. In 2017, she won a Judge's Award of Merit!

Our dogs have gone on to be titled in Conformation, Agility, Obedience, Rally Obedience, Water Work, Scent Detection and Search & Rescue.





We are members of the Canadian and American Portuguese Water Dog Clubs and members in good standing with the Canadian Kennel Club.










Drewsar Portuguese Water Dog Breeders ,&nbsp Moffat, Ontario Canada
All images are property of Drewsar Perm Reg'd
© 2006-2021 Drewsar